Posted by David Cant on June 7, 2013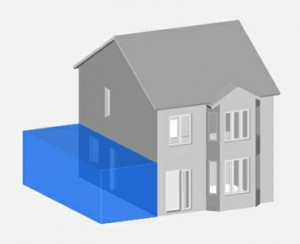 Safety needs to be at the very foundation of all building work, especially where the foundations of the building are concerned. Unfortunately this was where one Wolverhampton building firm went wrong, resulting in the partial collapse of a residential property, and a £7,500 fine.
Last year Astbury Design and Build Ltd were employed to build an extension to a private home in Wolverhampton. This is of course a fairly regular and reasonably standard building project, and not one which should usually lead to the property next door falling down.
The reason why building extensions to properties doesn"t usually lead to this sort of problem is of course down to the way in which Health and Safety consultants with specialist knowledge of buildings development provide advice and recommendations on procedures which can be implemented to ensure that there is no movement of any existing walls, supports or foundations.
Party Wall Notification
This specialist advice is not only a fundamental necessity where any buildings project is concerned, but is also necessary in order to ensure compliance with the Party Wall Act.
What Is A Party Wall?
A party wall, in its simplest form, is a joining or shared wall between two properties. Literally, a wall that has shared, or party interest. More specially, in terms of the Party Wall Act 1996 (https://www.gov.uk/party-wall-etc-act-1996-guidance) a party wall is defined as:
a wall which forms part of a building and which stands on the lands of 2 or more owners
a wall which stands on the lands of 2 or more owners but is not part of a building (for example, a garden wall)
a wall which is only on one person's land, but which is used to separate buildings owned by 2 or more people
a structure which may not be a wall, but which connects buildings or parts of buildings owned by 2 or more people (such as walls or floors in flats)
What Does The Party Wall Act Cover?
The Act covers any work which may affect, or which relates in any way to any structure which can be included in the above list. So knocking down, extending or altering any part of a party wall will be covered by the requirements of the Act.
However, there is one other occasion when the Act comes into force, and that is where digging may take place close to a neighbour's property which goes to or below the level of the foundations of that property. This is crucially where Astbury Design and Build Ltd went wrong.
The Wolverhampton building firm dug down to the level of the foundations to create new foundations for the extension which was to be built. However, rather than doing this in stages, which is what the HSE would recommend, they dug the complete trench in one go. This effectively removed any anchoring the neighbour's property's foundations had, and they gave way. This resulted in around one third of the property collapsing completely. The building had to be half demolished in order to begin repair work.
Fortunately the owners were away at the time, so no one was injured, but this could have been an entirely different story.
Remember, wherever there is any building work such as an extension the Party Wall Act must be considered. If you need advice or recommendations regarding any aspect of building development Health and Safety
then call one of our advisors on 0800 1488 677 who will be happy to help.